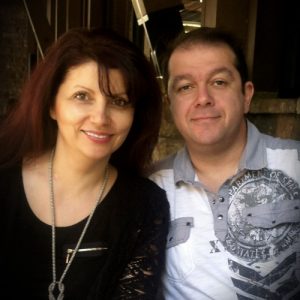 Arman and Petya Lalane grew up in communist Bulgaria in Eastern Europe. Each came to the faith in their early twenties through powerful personal encounters with God. Their journey as a family began in 1993. While remodeling their first home in September of 1996, the Holy Spirit came upon Petya in an open vision. God spoke to her that their family was to live in the United States and showed her details of His plan for their future. That vision in the Spirit was a life changing experience, placing a call on their life for a higher purpose that could only be accomplished from a place of deep trust and love for God.
At that point of their lives, they were actively involved as a couple in their local church in Dobrich, Bulgaria. Arman worked as a computer engineer to provide for the family while Petya took care of their two young children.
However, after praying for several months without seeing any opportunities for relocation, Petya felt inspired to start a manufactory for children's clothing. After a few short months doors were supernaturally opened to plant her business during a very dark time for Bulgaria's economy. Through an organization in England, Petya and her business partner, Hristina, received a grant that financed the establishment of their business endeavor. In less than two years, their company became one of the leading brands in the country. Listening to the voice of the Lord and following Him was key to establishing a prosperous business.
During this time, Arman was leading an IT office for a Texan company in their home town in Bulgaria with 10 employees. He was privileged to travel to the United States to take part in some very key meetings for the company.
In 1999 both began to feel nudged within their hearts that it was time to prepare to move to the USA. Although the family resisted such a big move, God worked through them with un-relentless love and reassurance. Within a few months, Petya began to feel led to sell her business, and on Jan. 20th, 2000 her company was sold along with its know-how. At this time, there had not been any sign or opportunity for a move to the states. Due to a crisis in the IT industry in the United States that resulted in a loss of key clients, the office Arman was overseeing was closed in their home town in Bulgaria. Arman and Petya were both unemployed during the same time – a time of trusting, praying, and waiting!
Six months later, a call from a company in Los Angeles came as God's intervention paved the way for their whole family to relocate. Arman was hired as a computer programmer with a work visa and all relocation expenses were covered by the company. The whole family arrived on Jan. 20th 2001 at LAX.
A week after their arrival, Petya had a detailed dream that the company that had hired Arman was going to go out of business. God was preparing them to face the upcoming turbulence! Sure enough, the company collapsed in May, 2001. Long story made short, the family was prepared to face this time thanks to the dream God had given Petya. Arman was hired by UCLA before the end of the year. Two years later, a big envelope was stuck into their mailbox…a green card, won through the World lottery! God is faithful!
A call for ministry: Soon after the Lalane family moved to Los Angeles, The Church on The Way became their home church. In 2006 God stirred them up to seek His purpose and to align themselves with His call for their lives. As a result, the nonprofit Organization Bridge of Intersection was founded with the support and guidance of the pastors of TCOW. Currently, they are members of HRock church where Petya serves as a counselor, and both of them are leading a home church in West Hills, CA.
Throughout the years, Arman and Petya have led multiple missions' teams to Bulgaria with the purpose to train and disciple churches in spiritual warfare, inner healing and deliverance ministry. As a result, hundreds have found their freedom through inner and physical healing. They have even had the opportunity to serve prisoners and refugees. Through their nonprofit organization, funds were raised which provided for the needs and remodeling of an orphanage of 54 children. Through donations raised through Bridge of Intersection, the church building of a protestant congregation in Kurdjaly, Bulgaria was also completed and equipped. Their passion and commitment is to transform nations and regions by empowering local leaders in the seven mountains.